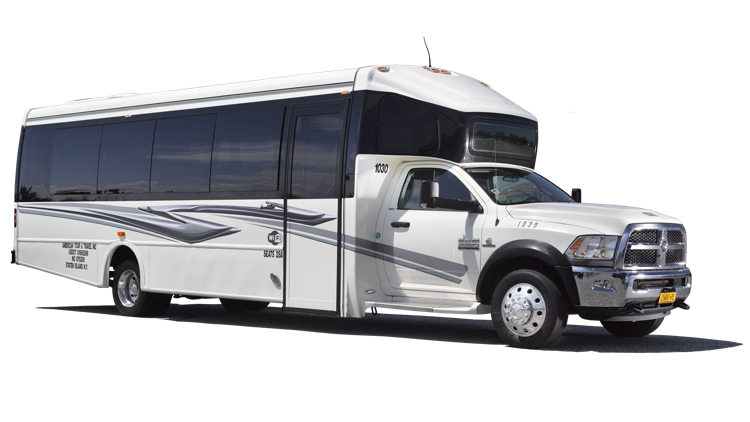 The Perfect Choice for Small-to-Midsized Groups
If you're planning a trip, and you want something a little more upscale, an executive mini bus from US Coachways is an outstanding option. You'll have the comfort and luxury you expect from US Coachways, with climate control and spacious seats, but you'll also have the ability to choose from a number of premium features. Best of all, you'll be able to relax with friends and family while someone else handles all the details.
At US Coachways, we bring more than 30 years of hands-on experience in the charter bus rental business to groups and group leaders nationwide. To get a free quote on the cost of an executive mini-bus rental, visit our user-friendly online Cost Calculator. To learn more about the full scope of the services we offer, or to ask any questions about charter bus travel, call 1-855-287-2427 and speak with an experienced travel consultant.
Interior 360 view of large Executive Mini Bus
* Click and scroll to view
Please note amenities shown are not guaranteed. Special requests should be made at the time of booking.
Frequently Asked Questions about Executive Mini Buses
What amenities can I expect on an executive mini bus?

All executive mini buses come with climate control, plush high-back reclining bucket seats and AM/FM stereo. The seats are all forward facing, with no middle seat and more leg room than any other mode of travel. The executive mini-buses will also include at least one of the following features:

Leather seats
On-board bathroom facilities
Luggage space for up to 20 average sized bags
Additional overhead storage bins
Wifi
Electrical outlets
Hardwood floors
DVD players and monitors
Tables (special request)

You may also be able to add some of the above amenities for an additional fee.

What will it cost my group to charter an executive mini bus?

The total price for any coach bus rental varies, based on a number of factors:

How many people will be traveling?

How long will your charter take?

From where your pick-up is & where you intend to travel to?

The day of the week & time of year?

Any special features you need on your bus?

Fees incurred along the way? (if applicable)

— tolls, parking fees, permits, & airport fees, are just an example of possible added fees.

How will I know if the executive mini bus is the right choice for my group?

At US Coachways, we know that one of the keys to a successful trip is finding the optimal vehicle for your group. When you rent through US Coachways, we'll take the time necessary to learn the details of your group and trip—how many people are going, how long you'll be on the road, and any special needs of your group. Then we'll go to our extensive network of charter bus vendors to find the best bus for your group.

The executive mini buses come with a range of seating capacities—we can get you a bus that accommodates anywhere from 24 to 35 passengers comfortably, with ample room for personal items.

What is your policy with respect to the consumption of alcohol on an executive mini bus?

You may bring and consume alcohol on a US Coachways charter bus, only by advance written permission of US Coachways. You must comply with all local laws and regulations governing the possession and use of alcohol. In addition, your driver will always have the discretion and authority to suspend or terminate such privileges for any reason.
The Executive Mini Bus—Ideal for Any Outing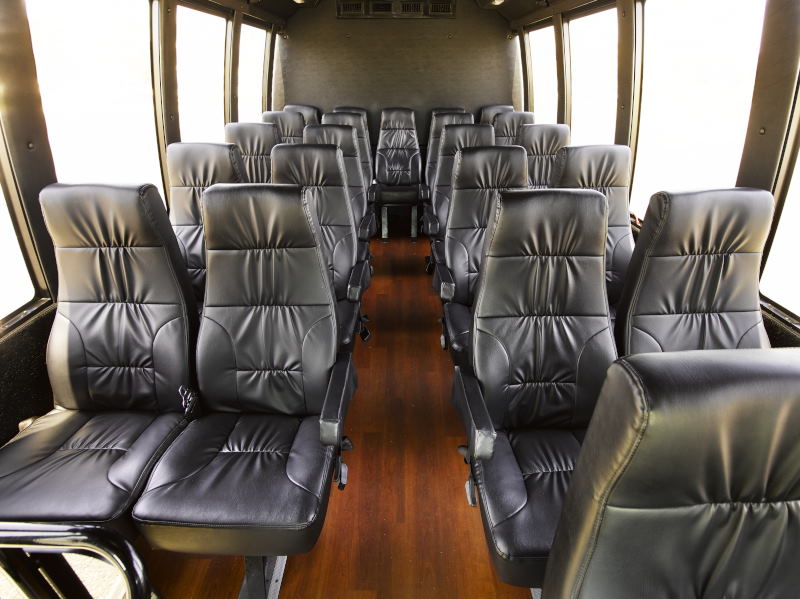 Please note amenities shown are not guaranteed. Special requests should be made at the time of booking.
The many features that make an executive mini bus a great choice for ground transportation—the reliability, flexibility, safety, comfort, convenience and affordability—make it perfect for any type of travel:

Family celebrations — Anniversaries, retirement parties, weddings, graduations, rehearsal dinners, birthdays, bar and bat mitzvahs, reunions or engagement parties.
School travel — Prom and graduation parties, after parties, class trips, fan and athlete travel for sporting events.
Business and corporate events — Company outings, conventions, conferences, seminars, business meetings, team-building efforts, golf outings or company parties.
Church group — Choir tours, youth group outings, mission trips and community volunteer work.
Special events — Touring Broadway productions, stadium or arena concerts, professional or amateur athletic competition, auto races, festivals or public rallies.
Senior citizen and retiree outings—Shopping adventures, casino trips, fall foliage tours, concerts and plays, and historic landmarks or attractions.
The US Coachways Pledge
At US Coachways, we built our reputation and our business through a strong commitment to personal service and attention. When you set up an executive mini bus charter with US Coachways, we'll provide you with:
A dedicated service team, committed to promptly addressing all your concerns, so that you'll have a single point of contact at all times.
Access to the US Coachways Trip Management Portal, an online resource that allows you to view invoices, itineraries and other information from all US Coachways charter bus rentals on the same website.
Comprehensive dispatch services 24 hours a day, seven days a week.
The flexibility we've developed over more than 30 years in the business—we have the relationships and the capability to make most last-minute or real-time itinerary changes, and can often book an entire trip with short notice.
Competitive pricing—We book an average of more than $55 million in charter bus trips every year. That gives us the vendor loyalty, local market savvy and purchasing power to secure many of the best deals for our customers.
We are also GSA (General Services Administration) approved, so we can provide charter bus rental services to the federal government and its agencies.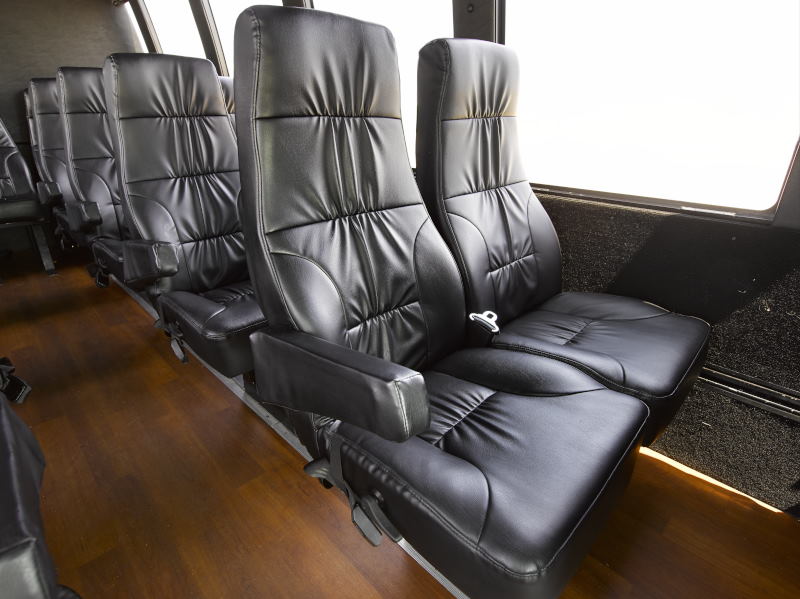 Please note amenities shown are not guaranteed. Special requests should be made at the time of booking.
Reserve Your Executive Mini Bus Today!
At US Coachways, we have provided effective travel solutions to groups and group leaders throughout the United States for more than three decades. For a free estimate on the cost of taking an executive mini-bus anywhere in the country, go to our convenient online Cost Calculator. To learn more about the ways we can help you with group travel, or for answers to any of your questions about charter bus travel, call 1-855-287-2427 to speak to an experienced travel consultant.