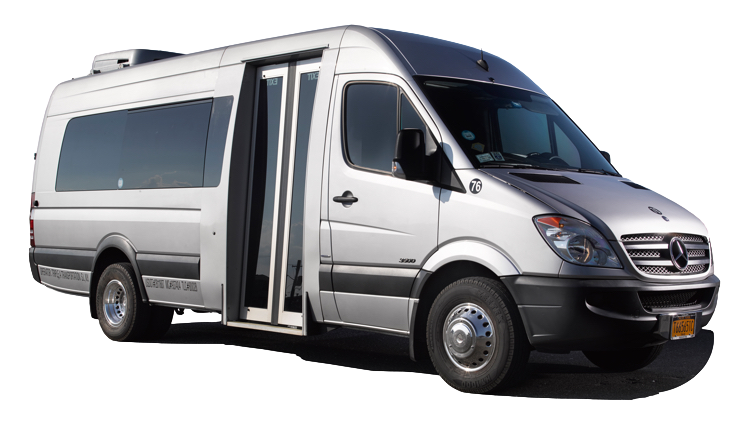 Ride in Luxury, Convenience and Comfort in a turtle top van
If you're planning a trip with a small group of family or friends, or you need to get employees, church members, students or senior citizens to and from an event, an Executive Sprinter Van from US Coachways can meet all your needs. You'll relax with everyone else while your driver handles all the details.
What You'll Get When You Book an Executive Sprinter Van from US Coachways
The Executive Sprinter Van sets the standard for safety, luxury and comfort. You'll have:

All executive sprinter buses come with climate control, plush high-back reclining bucket seats and AM/FM stereo. The seats are all forward facing, with no middle seat and more leg room than any other mode of travel. The executive sprinter will also include at least one of the following features:

Room for 9 up to 15 passengers (depending on specific size) to travel comfortably—The seats are wide with lots of leg room. The aisles are spacious, too, and you can get up and move about at your leisure.
State of the art safety features — The executive sprinter vans have special sensors on the outside of the vehicle, so that your driver receives warnings whenever you get too close to another driver or an obstacle in the road. The newer model Mercedes –Benz Sprinter Vans include anti-lock brakes, stability control mechanisms, airbags, seatbelt pretensioners (that automatically tighten seatbelts to the optimal position).
The benefit of the Blue Efficiency system, designed to work in tandem with the sprinter van's turbo diesel engine to maximize fuel efficiency, saving money on gas and benefiting the environment.
Full-time climate control — The heating and air conditioning systems, standard on all sprinter vans, will keep you comfortable at all times.
A wide array of optional amenities — The sprinter vans come with many extra options, so you'll want to check with your travel consultant to see what's available. DVD and CD players, hookups and chargers for your devices, sometimes even satellite TV can be found on sprinter vans.

A luxury Turtle Top Van is the standard offering for customers looking to rent a sprinter van.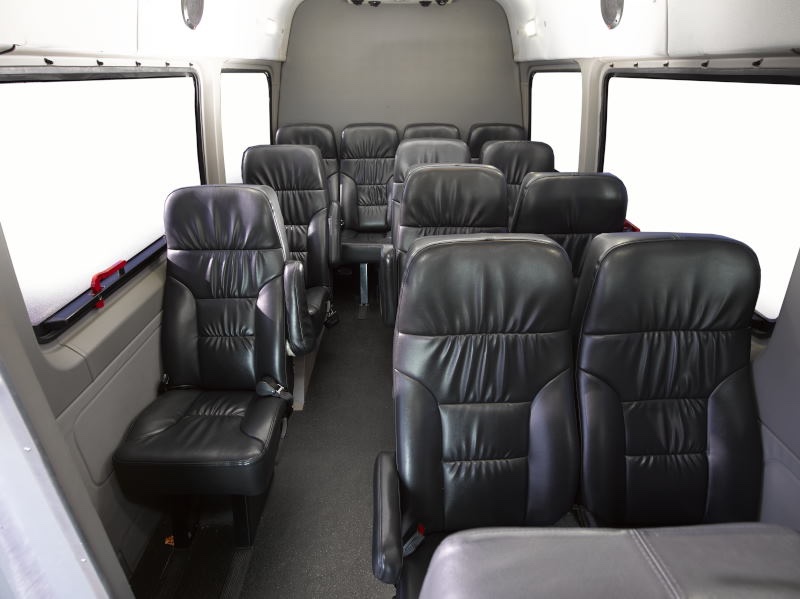 Frequently Asked Questions about Executive Sprinter Vans
How can I be sure the Executive Sprinter Van is the best option for my group?

When you book with US Coachways, we'll take the time to carefully consider all the factors involved in your trip—how many people will be traveling, what you'll need to take with you or bring back, how long you'll be on the road, and the special needs of any of your participants. We'll work closely with you and with our network of vendors to ensure that the executive sprinter van will best meet your needs.

How much will it cost to rent an Executive Sprinter Van?

There are many variables that go into the total cost.

How long you'll be gone — If you're going on a day trip, you can expect to pay either by the hour or by the mile, with a minimum charge. If your trip extends over two or more days, you'll customarily be charged by the day. You can also expect to pay the costs of lodging for your driver, if you stop for the night.
Where and when you'll rent the executive sprinter van — Supply and demand plays a role in the cost of any charter bus rental. For example, because there's more demand for a charter bus in Phoenix in the winter, the cost is typically higher. Conversely, you'll typically pay more for a charter bus in the summer in northern climates.
Where you board and return the bus — It generally costs more to rent an executive sprinter van in a metropolitan area than in the suburbs or away from the big city.
The day of the week—There's more demand for executive sprinter vans on the weekends, so you'll typically pay more for Friday, Saturday and Sunday excursions.
The amenities on your executive sprinter van — Most executive sprinter vans come with leather, forward-facing, captain's seats. You can typically expect climate control, and a CD/AM/FM stereo as well. Additional options that may come with additional fees include DVD players, Wifi, outlets and charging stations for your devices, limited luggage room and privacy shades.
How much luggage can I bring on an Executive Sprinter Van?

On the standard sprinter van, there's room for every passenger to bring a small-to-mid-sized carry on.

What is your policy with respect to consumption of alcoholic beverages on an Executive Sprinter Van?

You may request to consume beer, wine and liquor on your van, but ONLY with prior written permission from US Coachways. Your driver always has the discretion to suspend or terminate those privileges. In addition, all consumption must comply with local laws and regulations. Contact your travel consultant to learn more.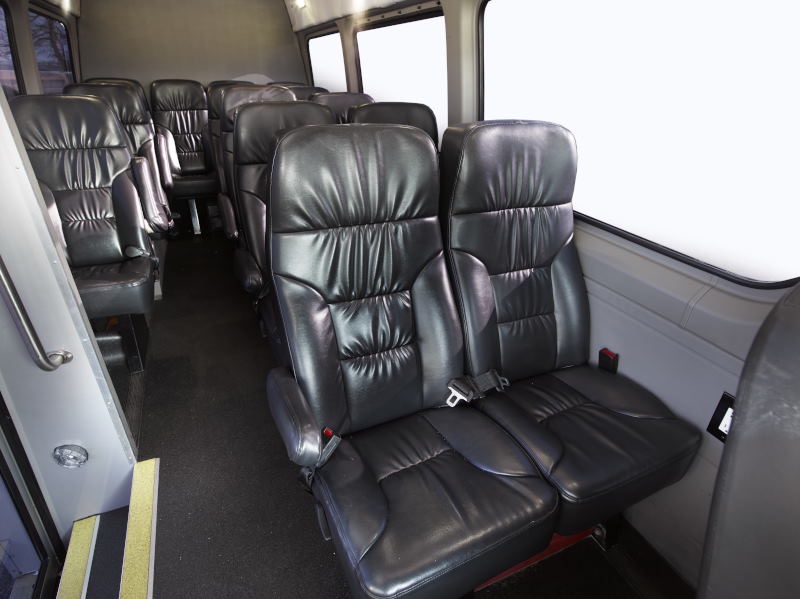 Our Commitment to You
When you book an Executive Sprinter Van from US Coachways, we'll give you:
Your own dedicated service team, so that you'll have a single point of contact at all times.
Access to the US Coachways trip management portal, where you can find information about all your trips in a single location, from itineraries to invoices.
The flexibility that comes from our experience—In our decades in the business, we've built strong relationships with charter bus service providers nationwide. That gives us the flexibility to effectively respond to any itinerary changes, even last-minute or real-time modifications. We also have the ability to book an entire trip with relatively little notice.
The flexibility we've developed over more than 30 years in the business—we have the relationships and the capability to make most last-minute or real-time itinerary changes, and can often book an entire trip with short notice.
Competitive pricing—We book, on average, more than $55 million in charter bus excursions every year. That gives us the vendor loyalty, local market knowledge and purchasing power to get great prices for our customers.
Full dispatch services, 24 hours a day, seven days a week.
An Executive Sprinter Van—The Right Vehicle for Any Outing
The flexibility, dependability, comfort and convenience of an executive sprinter van make it an outstanding option for any type of travel, such as:

Corporate or business events — Conventions, conferences, business meetings, training, seminars, team-building exercises, golf outings and company parties.
Senior and retiree trips — Museums, shopping excursions, concerts, casinos, fall foliage tours and historical landmarks.
School outings — Athletic team travel, prom and graduation after-parties, class and club trips, and cultural events.
Family celebrations — Weddings, birthday parties, bar and bat mitzvahs, graduation open houses, reunions, retirement and anniversary celebrations.
Church outreach — Mission trips, community volunteer projects, youth group outing and choir tours.
Special events — Stadium concerts, college and professional sports, motor car races, Broadway shows, festivals and public rallies.

In addition to providing transportation for group trips, the Executive Sprinter Van is also ideal for cargo transport and shuttle services.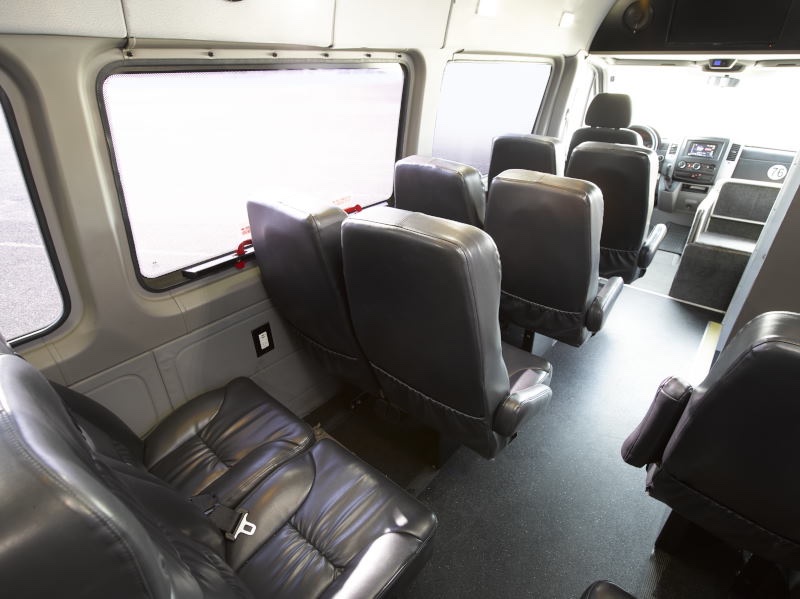 Reserve Your Executive Sprinter Van Today!
At US Coachways, we have set the standard in the charter coach business for more than 30 years. To get a free estimate on the cost of an executive sprinter van rental anywhere in the United States, visit our convenient and user-friendly online Cost Calculator. To learn more about the executive sprinter van, or any of the other charter buses available through US Coachways, call 1-855-287-2427 to speak to an experienced travel consultant.