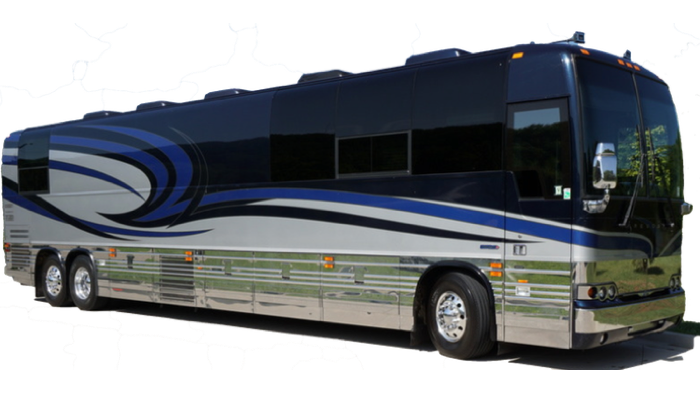 The Luxury, Privacy and Convenience You Need When You Take Your Show on the Road
You're putting together a tour—getting ready to do what you really love and share it with other people. But the thought of checking into and out of hotels, of packing and unpacking, of days, weeks or even months of road food puts a real damper on your excitement. Relax—there's a better way to travel, where you have all the luxury, comfort and privacy of a hotel room, as well as your own kitchen, but you'll avoid all the hassle—in a star coach from US Coachways. This elegant "suite on wheels" lets you feel more at home, with your favorite things all around you. There's a full galley kitchen, so you'll have total control of nutrition and dietary needs. With satellite television and a high-end sound system, you'll never be at a loss for entertainment, either.
The star coach also offers beds and separate bathroom facilities for another six people, so you can travel with your entourage. It's also a great option for a luxury family vacation. Mom and dad can get a little peace and quiet in the master suite while the kids have a great time on the rest of the bus. Best of all, you'll never have to get behind the wheel. Take it easy or have family fun while someone else does all the driving.
Frequently Asked Questions about the Star Coach
What amenities come with a star coach?

The star coach is unlike any other charter bus you've ever seen. We've removed all the seating you'd find on a standard charter bus and created a luxury hotel suite on wheels. On the star coach, there's a separate master bedroom with a queen-sized bed. The master suite also comes with a private bathroom, equipped with a walk-in shower. You'll have mobile satellite TV, Wifi and a state-of-the-art sound system. There's a full galley kitchen on board, so you'll be able to have complete control over all your dietary needs. Enjoy leather seats, tile floors and marble counters as well.

Does the star coach have room for attendants or support staff?

Yes. You'll have separate sleeping and bathroom accommodations for up to six people, making the star coach ideal for a small touring act or even a family (mom and dad get the master bedroom, though!).

Is there a limit to the amount of time the star coach can be on the road between engagements or venues?

Yes. Federal and state regulations require that drivers take certain minimum breaks and also put restrictions on the number of hours a driver can be on the road over a specific period of time. If your schedule requires that you be on the road more than regulations allow, you may have to pay for a second driver to travel with you.
How much does it cost to rent a star coach?

As with any charter bus, the cost of a star coach will vary, based on a number of variables:

Where and what time of year you'll be on the road

—The overall cost of a charter bus depends, to some extent, on supply and demand. Because the demand for a charter bus tends to be greater in the winter in the southern part of the United States, you may pay more for a star coach in Florida in January than in August. The opposite typically holds true in the northern climates—a charter bus will likely cost you more in June in Boston than in February.

How long you'll be traveling

—If you're renting a star coach, chances are pretty good you'll be on the road for days, weeks or even months. For a trip of that length, you can expect to pay by the day. If, for whatever reason, you wanted to rent a star coach for a day trip, you'll either pay by the mile or by the hour, with a minimum charge.

There's also more demand for charter buses on the weekends than during the week, so it usually costs more to rent Friday through Sunday than Monday through Thursday.

Where you'll board the bus

—The price for a charter bus is customarily a bit higher in an urban or metropolitan area than in the suburbs or a rural setting.

Where you'll leave the bus

—As a general rule, most charter buses depart and return to the same location. You don't have to do that, but you may pay more if you don't.

The amenities on the bus

—With the star coach, most of the features are the same from bus to bus. However, if there are additional amenities that you require, you may pay extra for them.

For a free estimate of the cost to rent a star coach, visit our online

Cost Calculator.

Does US Coachways allow the consumption of alcohol on a star coach?

Yes. The consumption of alcoholic beverages is allowed, but only with prior permission from US Coachways. You must comply with all state and local regulations in any location in which you travel. Your driver will also have absolute discretion and authority to suspend or terminate alcohol privileges at any time for any reason.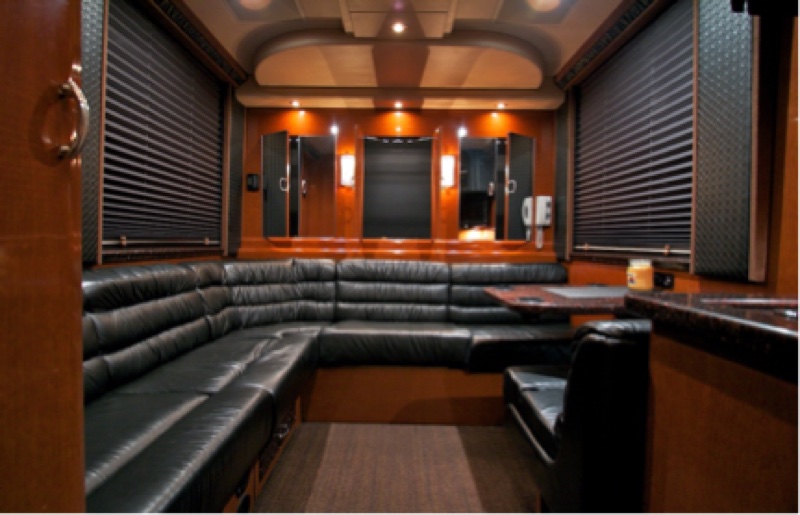 A US Coachways Charter Bus—Ideal for Any Type of Travel
The star coach is the perfect setup for a touring artist, with a master bedroom, queen-sized bed, full bath and walk-in shower. It also has separate sleeping and lavatory accommodations for up to six additional people, so you can bring along your retinue, or even use it for family travel. The star coach is just one of many charter bus rentals available through US Coachways. The many benefits of charter bus travel—dependability, flexibility, comfort, safety, convenience and affordability—make it a great choice for any type of outing:
The US Coachways Commitment
At US Coachways, we built our business and our reputation on a dedication to provide unparalleled customer service and satisfaction. When you ride with us, you'll have:
Comprehensive dispatch services available to you 24 hours a day, seven days a week.
Access to the US Coachways online Trip Management Portal, a user-friendly tool that lets you view invoices, itineraries and other information about prior trips on a single website.
Your own service team, with a single point of contact, providing timely responses to all your travel needs and concerns.
Unmatched flexibility–Because of our vast network of charter bus service providers, we can often make last minute and real-time changes to your travel plans, or even book an entire trip with short notice.
The benefit of our purchasing power—We set up an average of more than $55 million in charter bus rentals every year. That gives us the local market knowledge and the vendor loyalty to get some of the best deals for our clients.
We are also approved by the General Services Administration to provide charter bus services to the United States government and its agencies.
Reserve Your Star Coach Today!
When you book a star coach from Us Coachways, you won't have to sacrifice any comfort, convenience or luxury, simply because you're on the road. We've provided effective ground transportation solutions to touring musicians and other artists for more than 30 years. To find out the cost of a star coach rental, go to our easy-to-use online Cost Calculator for a free estimate. To learn more about the star coach or any of the other ground transportation options from US Coachways, call 1-855-287-2427 to speak to an experienced travel consultant.